The sample below is a section of the English version of the Demotisches Glossar of Erichsen. Even in its present format, it is fully searchable. I'm in the process of verifying the translations and the accuracy of my typing [not at all a given]. It also includes links to the pages in both the DG and WB and if you have scanned versions of these resources the spread sheet can be linked to the appropriate pages. Eventually, I hope to have an on-line database which will be searchable on-line and will generate the proper page of the DG or WB on request.
How the spread sheet is organized.
Column 1, has the transliteration of the Egyptian/Demotic word with the standard font used in WB, DG, CDME, and others.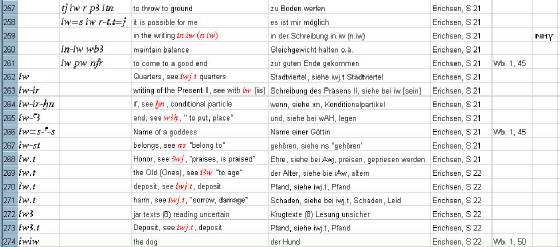 Column 2 has examples or usage of the word.
Column 3 is an English translation.

Column 4 is the German Original from either DG or WB. I have left the German intact to provide a point of reference in case my translation is faulty.

Column 5 is the DG reference.
Column 6 is the WB reference.
Column 6 is the Coptic descendent [if existing]